Exposed: Russian Oil Spill Cover Up and Assassinated Inventors You Never Heard About
Floodwater from Ob River runs black from Russian oil spill. The Russian oil giant Rosneft said it's actions had "prevented" oil reaching the main river. See picture below if you think that's true.
We also discuss a solution to oil and nuclear by subsidizing Water Powered Cars and why do all the inventors get assassinated?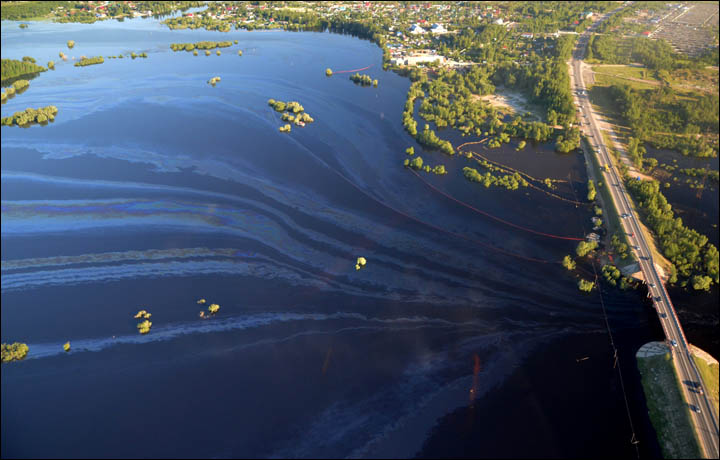 Russian Oil Spill Causes Large Scale Ecological Disaster and No One Close To The Source is Reporting On It.
The only report so far is by David Richards or we would never know:  The Siberian Times reporter
The company responsible for a Russian oil spill in  Rosneft said its actions had 'prevented' oil reaching the main river. Picture: Andrey Seleznyov
A rupture in a key pipeline led to oil pouring into Ob floodwater with the polluted area now put at more than ten hectares. Pictures showed the scale of the damage in an area close to the city of  123,000 people in the Khanty-Mansi Autonomous Region.
The Ob was anyway flooded when the spill occurred on 23 June and the key damage is to an area already underwater.
The pipeline is run by RN-Yuganskneftegas Ltd, part of the Rosneft energy giant, which said on Monday it 'engaged all the necessary measures to eliminate the spill of oil-containing liquid'.
The company said its actions had 'prevented' oil reaching the main river, the seventh longest in the world. Despite this, it is clear a significant quantity of oil spilled into the Ob's floodwater, and among the pictures is a domestic tap flowing with blackened water.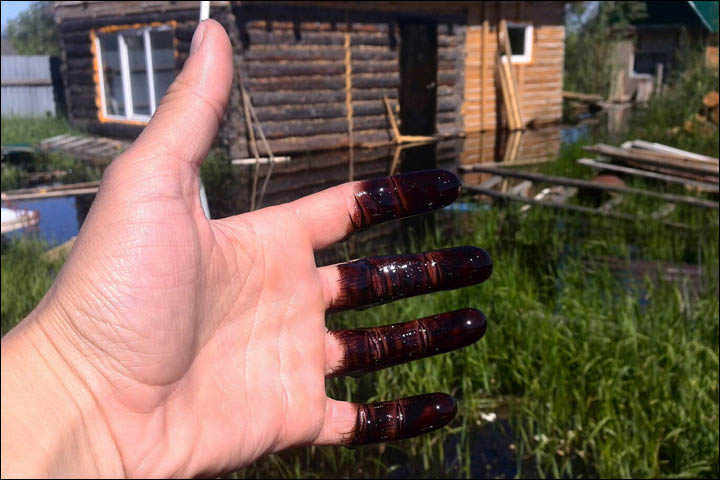 ---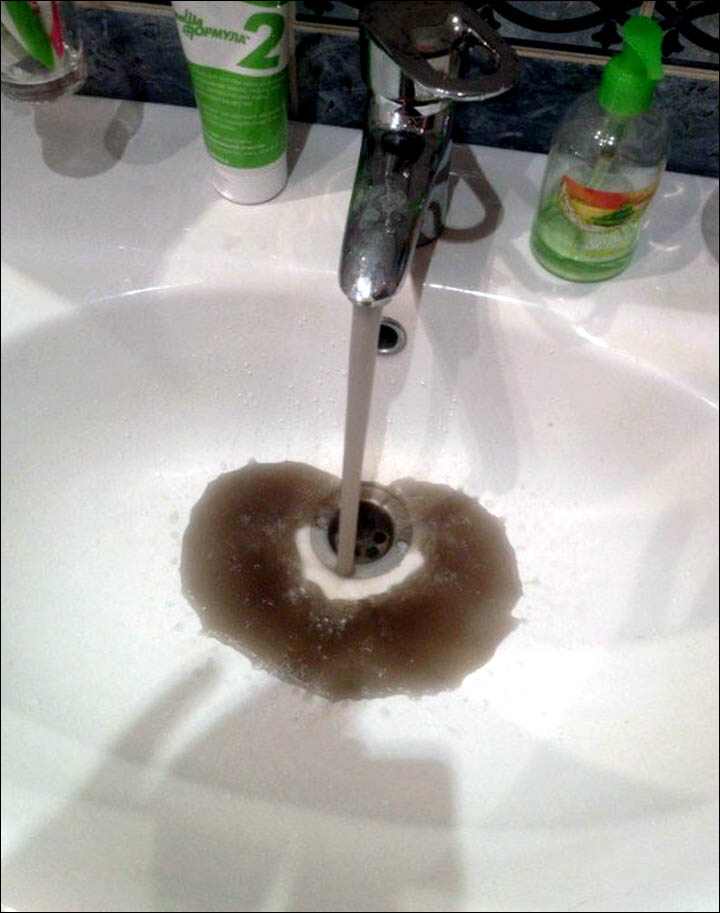 ---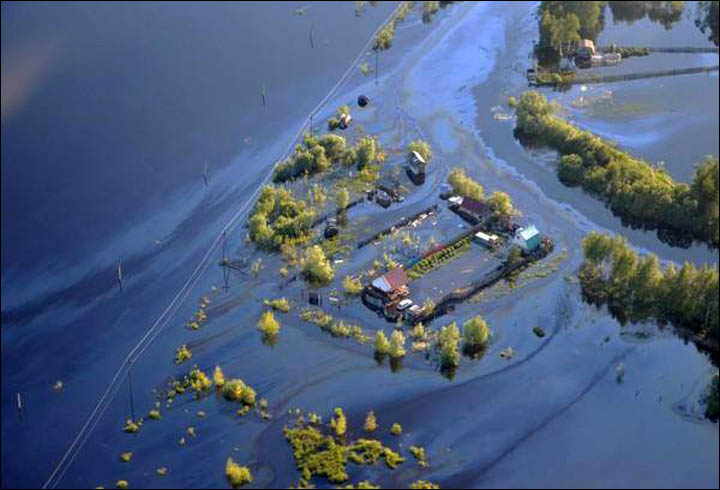 ---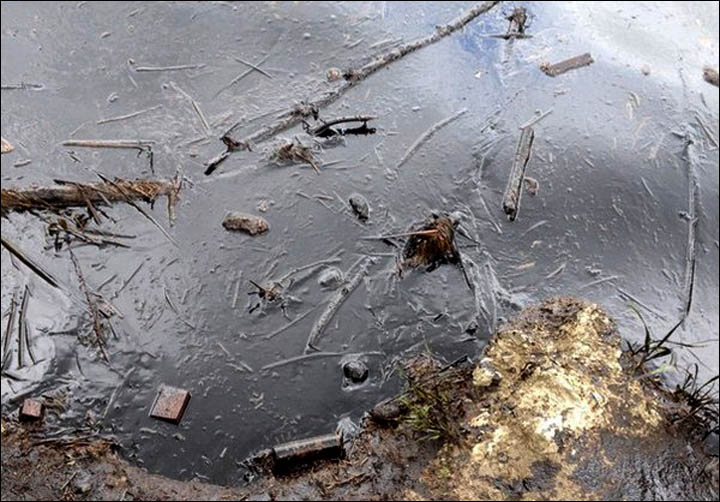 ---

Oil spill causes 'ecological disaster' close to Nefteyugansk city. Pictures here and below: Andrey Seleznyov, Znak.com
---
The pipeline 'failure' was close to the village of Singapay, in the suburbs of  Nefteyugansk. The oil is from the Ust-Balykskiy field in western Siberia. The pipeline has been stopped as emergency workers deal with the spill, with 1,100 metres of booms installed to prevent the oil spreading.
A company statement said it was taking 'every necessary measure to minimise the environmental damage.
'About 60 employees are involved in works to eliminate the consequences of the accident, in addition to six boats and five sets of oil gathering equipment.'
However, one local blogger claimed the company was slow to fix the problem adding that Rosneft was 'shrugging its shoulders and doesn't want publicity'.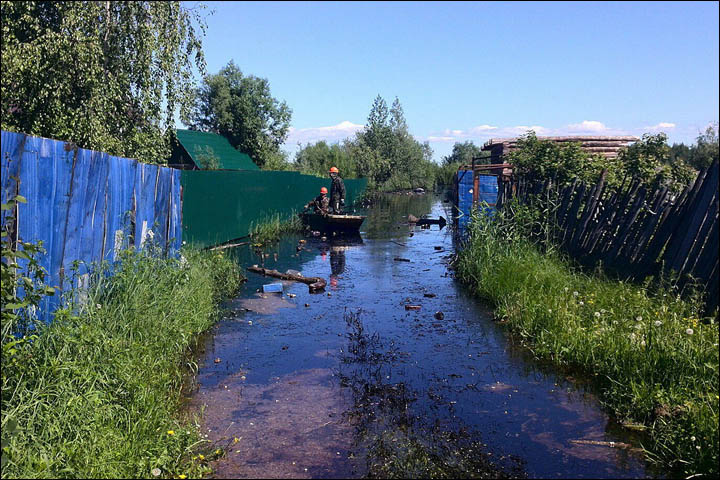 ---
It seems like every month there's reports on new oil spill disasters like the recent Santa Barbara Oil Spill or Russian Oil Spill. These accidents don't have to happen and are completely unnecessary. The only real solution is to phase out oil all together. We can fly sophisticated satellites to Mars and back but we can't make solar panels efficient and affordable.
It's a Monopoly game and the game is rigged.
Did you know that Water-powered cars have existed for years?
Water-powered cars have been given scant media coverage. In some cases, the inventors were intimidated into ceasing their work or assassinated.
The Illuminati quash free energy technology because it would transform society and breakdown the economic order. If you control the energy, you control the people.
Stanley Meyer, who invented a water fuel device, encapsulated the agenda: 'The internationalists want zero industrial growth, zero population growth… There is a move to force countries to sign over their natural resource rights, and if you sign over your natural resource rights, they have taken over the countries without even firing a shot. The number one thing that will diffuse the entire episode is to bring in an alternate energy source.'
Most of the cars use water as a source of hydrogen, which is a very efficient fuel.
Here is a list of men and companies who have invented water powered cars.
Herman Anderson (1918-2004) – Herman had an illustrious career as a scientist at NASA testing hydrogen powered rockets. He used this knowledge to create a water-powered vehicle which he believed would transform the world.
Herman created a water powered Chevy Cavalier. See Video
He was allowed to drive it, but was banned from selling or manufacturing the vehicle in his home State of Tennessee. The official reason was that the car gave off too much radiation. However, hybrid cars (that use both electricity and oil) produce a similar level of radiation and are legal. Go figure.
In 2008, a Japanese company called Genepax unveiled a water-powered car.  They received a patent for the vehicle in Japan and demonstrated it to the press. The car is extremely efficient, able to drive at 50km/h for an hour on a litre of water. It runs on virtually any form of water too, even tea and soda.
A year after the launch Genepax stopped selling the cars due to lack of funds. They currently have a website that explains how to convert your car to run on water.
Stanley Meyer (1940-1998) – The most famous water car inventor. The American created the 'water fuel cell', claiming that any car fitted with it could run purely on water.  A local television station filmed him driving a dune buggy powered by the device.
The British Advanced Energy Institute reported, 'We recently sent a delegation to witness Stan's work, to really evaluate it, and came back saying "this is one of the most important inventions of the century."'
In 1998, Stanley was murdered. He and his brother Stephen met two Belgian men at a restaurant who claimed to be potential investors. After drinking a sip of cranberry juice, Stanley grabbed his neck and ran outside, where he was violently sick. Stephen recalls, "I ran outside and asked him, 'What's wrong?'. He said, 'They poisoned me.' That was his dying declaration."
The following day Stephen tracked down the Belgian men. "I told them that Stan had died and they never said a word, absolutely nothing, no condolences, no questions." A week after his death, the Feds came to Stan's home and confiscated his car and research equipment.
READ FULL ARTICLE HERE: Henry Makow